who we are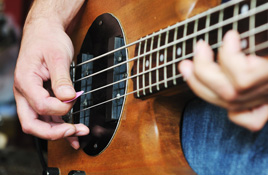 Wrecking Trains is a Denver/Boulder based Rock 'n' Roll Band.
Wrecking Trains formed in the summer of 2012 when Brian Nichols (drums) moved back to Denver. Having played in Boneyard with Ryan (Electric Guitar) in college at CU, the two quickly went to work along with old friends Garth Geer (Electric Guitar) and Brian Taht (Acoustic Guitar), pulling together material they had all worked on independently over the years and collectively writing new songs. Marcus Ray (Bass) joined the band in 2013 followed shortly by Josh Watson (Singer) to round the group.
our history
2018 -
Release first full length album Hot Rod Love, available on Amazon, iTunes, Spotify, etc. (with the services linked to where if someone clicked it they would go right to the page to buy our album)..
2017 -
Playing gigs & writing music.
2016 -
Playing gigs & writing music and wrecking trains.
2015 -
After playing a number of private events, Wrecking Trains makes it's public debut at the Oriental Theater in Denver, July 12, 2015.
2014 -
Josh Watson takes over as front man for the group, bringing in some youth and energy to help brighten the bands ambiance.
2013 -
Marcus Ray joins the band on the Bass adding a critical piece the group had been struggling to fill for the prior year. Adding an experienced bass player allowed Garth and Ryan to both focus on the guitar while bringing a more mature and beefier sound to the band.
2012 -
Brian Nichols moved back to Denver after playing in a number of bands in the Washington D.C. and Cambridge, MA metro areas. Upon arriving in Denver, Brian and Ryan quickly went to work collaborating with Garth and Brian Taht, arranging a number of songs that Ryan, Garth, and Brian Taht had written independently over the years while also collaborating on writing new music.
1992
Afer playing a variety of gigs in the Boulder area from 1991 - 1992, Boneyard breaks up.
1990
Brian Nichols and Ryan Reichenbach played in Boneyard while at college at CU. Ryan played saxophone back then while Brian was on the drums. The band included Rob Campbell on electric guitar, Rob Baird on Bass, and singer Mark Favorite.
1985
Asshole Control (aka The Sunday Gatherers) was a punk band formed in the mid-eighties based on necessity and anarchy. The music and radio-play scene in Southwest Colorado was very limited - pop or country and nothing in between, so Garth, David, and Jason ventured out to form a band which performed all original music using hard-driving power rhythms with a speed punk beat. The songs addressed the the trials and tribulations of small-town America teenage life. Topics ranging from the Cold War (Ground Zero) to the Clique Wars (Despicable Hicks, The Jock Song) to the dangers of driving while paralyzed (Paranoid Eyes - not a Pink Floyd cover!) However, the favorite topic was to write about how much we hated authority (Education, Rebel Death, Nationalistic Hunters, Violent Society) Parties & Gigs were usually cut short by the local police - something we began to take personally but wore as a badge of honor. Playing to crowds ranging from the groupie gals on the couch (my favorite) to a few hundred in the high school gym, the band lived a short life - as a punk band should - as we all went our separate ways in 1987, venturing to various non-cow-town lives.